Make the Switch

Make the Switch to Nissan
Receive $1,000 just because you switched!
When you trade in your non-Nissan vehicle.
Make The Switch Sales Event | Nissan Dealer in Morristown, TN
Nissan makes some of the best cars on the road and East Tennessee Nissan makes your driving experience as good as it gets. When you come into East Tennessee Nissan, receive $1,000.00 when you trade-in your non-Nissan for a brand new Nissan and we will make sure you and your new Nissan are happy for a long time! Hurry in today to make the switch to a Nissan at East Tennessee Nissan before this exclusive offer comes to an end.
Nissan Is Ranked Highest For Quality & Value
Nissan is the top brand for quality and value across the board and Nissan models among the most award-winning on the road – whether it's the Accord, Civic, CR-V, Odyssey, Passport, Pilot, Ridgeline, or any other popular Nissan vehicle. That is just one of the many reasons to Make The Switch to a Nissan at East Tennessee Nissan in Morristown, TN today, though. Another great reason is the people you will meet and the exceptional service you will receive at East Tennessee Nissan. Many of our employees grew up in the Morristown area and are actively involved in the community. We look forward to helping you Make The Switch today!
Nissan Models That Will Exceed Your Expectations At East Tennessee Nissan Serving Morristown, TN
Make The Switch To A Nissan Today!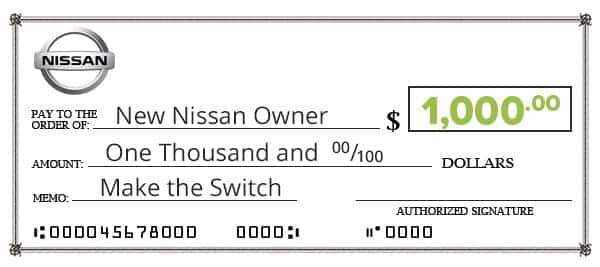 ---
Redeem Your $1,000